Which Wines Are The Best For Your Health? And Why?
Some red wines have significantly higher levels of what science has determined to be the beneficial ingredients found in wine. Evidence also suggests that younger red wines are better than older wines when it comes to health. Find out which red wines are the best for you – and surprise: it's not Cabernet or Pinot Noir!
We all know that alcohol can be bad for us, especially when consumed irresponsibly. However, imbibing moderately may carry with it some surprising benefits:
Dr. Rimm's statement isn't just an opinion, it's been deductively proven with hundreds of studies on alcohol and its effect on health. Of course, not all alcoholic beverages are created equally in terms of health. And, of the different kinds of alcohol (spirits, beer, and wine) there is one type that consistently outperforms the rest: wine.
The beneficial attributes of wine outplay all other types of alcohol when it comes to longevity. Of course, not all wines are created equally either! Some wines have significantly higher amounts of "good stuff" in them.
What to Look for in "Healthy" Wine
Here are the traits characterize wines that are better for you with respect to health:
Wines that are "dry," meaning they're not sweet and have little to no carbs (sugar).
Wines that are lower in alcohol (ideally, 12.5% ABV or less).
Wines that have higher polyphenol content, particularly procyanidins.
What The Heck is a Polyphenol?
Pretty much everything in wine that's not alcohol or water in wine is a polyphenol. These include tannins, color pigment, aromas, resveratrol, procyanidins, and about 5,000 other plant compounds.
Of these polyphenols, the most abundant in wine for health reasons are Procyanidins, which inhibit cholesterol plaque in blood vessels. This is why wine is connected with hearth health.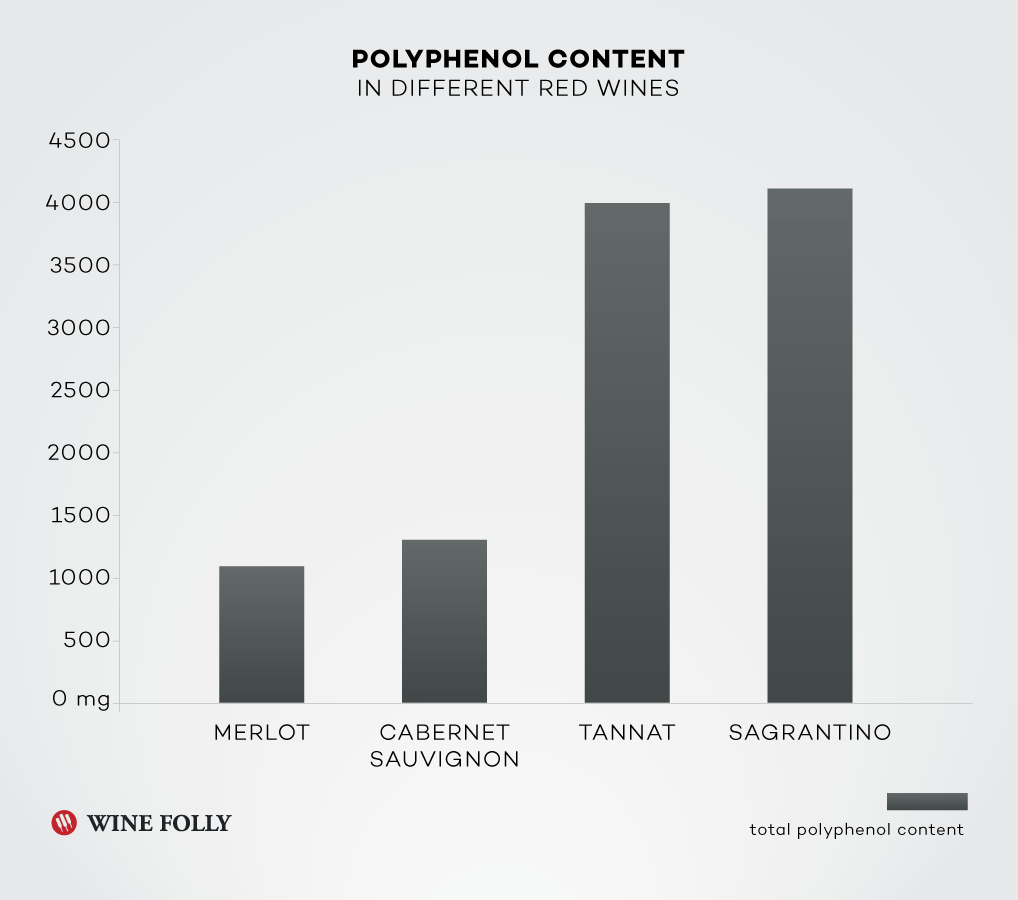 Which Wines Have the Highest Polyphenols?
Polyphenols are found in the skins and seeds of grapes, so only wines that are made with skin contact (including red wines and orange wines) have elevated polyphenol levels. Certain grape varieties have more concentrations of Procyanidin. Most notably:
Tannat

 The wine of Madiran in South-West France, that also grows in abundance in Uruguay

Sagrantino

 A rare grape from Umbria, producing deeply-colored wines.

Petite Sirah

 Also known as Durif, and primarily grows in California.

Marselan

 A successful crossing between Cabernet Sauvignon and Grenache with very small berries that creates wines with intense deep purple hues. A rarity found in tiny amounts in France, Spain, China, Argentina, Brazil and Uruguay.

Nebbiolo

 Nebbiolo is an important grape of Piedmont, Italy.
These grapes contain anywhere from 2–6 times as much polyphenol content as other more popular varieties like Pinot Noir and Merlot. Concentrations of polyphenols are highest when the wine is young. Of course, there are many other variables involved, including how the grapes were harvested and the wine was made. So, if you're looking for an easier answer, go for the taste.
What Do High Polyphenol Wines Taste Like?
The wines will have highly concentrated fruit flavors, higher acidity, and a bold, tannic finish. Most will have a darker color, so much so, that you won't be able to see through your wine glass.
The more bitter, the better.
High polyphenol wines are the opposite of smooth and supple: they're robust and bold and often described as astringent. The bitterness in wine appears to directly correlate to the level of procyanidin in a wine. So, if you like a little bitter in your life, you're going to love these wines!
Of course, wine isn't the only food with high levels of polyphenols. Apples, beans, chocolate, grape seed extract (as a supplement), tea, and pomegranates are great alternatives to wine with higher levels of polyphenols.
Great Wines for Sipping
Because these wines are perceived by most as "hard to drink," you'll find yourself drinking with more moderation. This isn't a bad thing, considering the National Cancer Institute recommends men should have no more than 2 glasses per day and women no more than 1 glass (a glass is 5 oz). So, the next time you read "robust, bitter and age-worthy" on a label, you might avoid your initial instinct to run the other way!
13 Classic Horror Movie Wine Pairings
Because you're too old for candy anyway.
And so are we. Not to mention, there are plenty of wines that will satisfy your sweet tooth. (See: Serious Sweet Wines, and Port Pairings, and Ice Wine, please.)
So instead eating sweets, sip along with one of these 13 classic flicks and get your heart pulsing this Halloween. Submitted for your approval: Scary good horror movie wine pairings to consume in-between all your candy dispensing.
Carrie – Uruguay Tannat
It's a little shy, a little awkward compared to other well-known wine regions. But trust us, this Tannat is bigger and badder than everyone's favorite cheerleader. (Better watch yourself Cabernet.)
Pro-Tip:

 Find out why Tannat is the next "it" wine. Click here.
The Silence of the Lambs – Chianti
Perfect if you're having friends for dinner, we mean, over for dinner. (What'd we say?) Pairs better with pizza than liver and fava beans, in our humble opinion.
Go Further:

 As Chianti is made from Sangiovese, there's a wealth of similar wines to try.

Pro-Tip:

 Splurge on Chianti Classico Riserva if you're looking for great quality.
Shaun of the Dead – Red Wine, Any
Like Shaun, maybe you're trying to be more refined. Don't get us wrong, a lager with your best friend is hard to beat. Maybe all you need is a nudge in the right direction…
It (original and remake) – Lambrusco
Though, we understand that some of you will never, ever like it.
Dig deeper:

 Which Lambrusco wines are complex and delicious? Find out.

Twin Peaks: Fire Walk With Me – Syrah
Such an engaging and bizarre show deserves a wine up to the task of following the last seven days of Laura Palmer's life. What will we learn? Will it taste like coffee and cherry pie? Or are we going somewhere darker than expected? With Syrah, it really, really depends. May you find something strange and wonderful that leaves you speaking in reverse.
28 Days Later – Madeleine Angevine
With a happy ending, you'd think we'd recommend Champagne for celebrating. But as the zombies are A.) extremely fast and therefore, B.) extra scary, you're going to want something light-in-alcohol and refreshing to keep you on your feet.
Can't find Madeleine A.? Try a Vinho Verde instead.

Pro-Tip:

 Speaking of England, did you know about its rapidly growing wine scene? Learn all about it here.
The Exorcist – Vin Santo
It Follows – Rosé
Like the horror genre, you may have thought rosé was the same ol' schtick. Well, this movie sure showed you. So will the types of rosé coming out today.
Pro-Tip: Made a bad decision and need to bolt from something both intangible and inescapable? Try rosé in a can! Very portable.
Psycho – Pradikat Riesling
At first, we thought Barolo. Iconic, powerful, with an agonizing wait until it reaches perfection. A pure psychological thriller. But part of what makes Psycho such an iconic film is the way it was made. It was unpretentious, visceral, and satisfying, despite having a limited budget. Something so strangely basic calls for sweet Riesling.
Plus, Mother always loved Riesling
The Evil Dead – Californian Zinfandel
Relentless, absurd, and completely lacking in subtlety, you'll need something just as preposterous. Enter big and juicy Zinfandel. Try not to have too much fun knocking back glasses as you watch this singular splatterfest.
Added Bonus: Coping with a recently severed hand? The signature high ABV will really help with that.
The Shining – Napa Valley Cabernet
Do you have the slightest idea what a moral and ethical principle is? Do you? Because we do. (Occasionally.) Credit for this recommendation goes to Christopher Sawyer over at the Sommelier Files. "And like the classic film: the wine is not only bold and powerful, but age worthy as well!" So well put.
Dig Deeper:

 Do you know how to find excellent Napa Cabernet? Find out.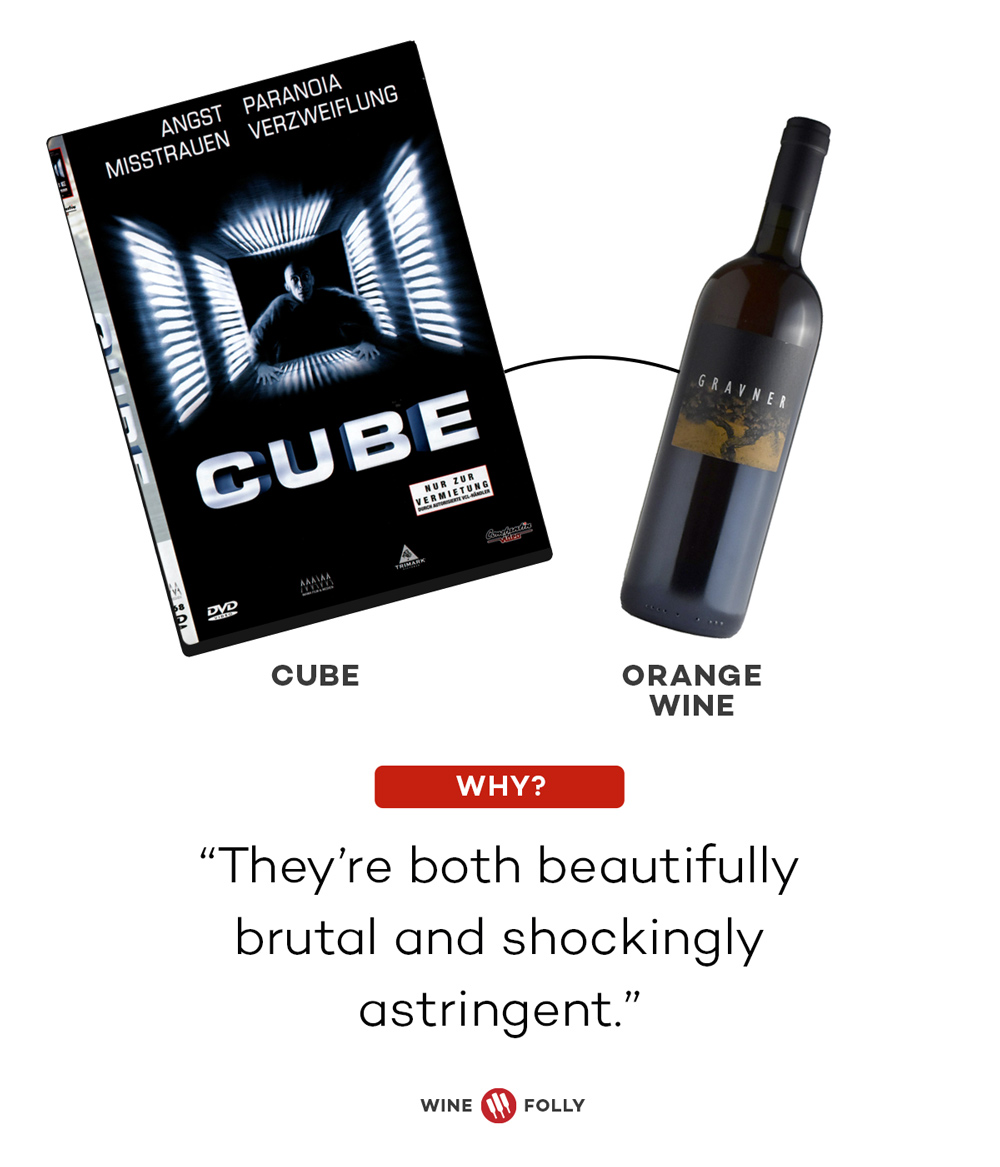 Cube – Orange Wine
A puzzling, thrilling horror film calls for an equally brain-bending style of wine. Stunningly natural, surprisingly tannic, orange wines are unlike anything you've ever put in your mouth. A perfect pairing with the surreal, tortuous film that is Cube. Why would anyone do this to themselves? Ah, because you love it.
What Is It Exactly?

 A white wine that's made like a red wine and pushes secondary and tertiary aromas/flavors to the front and center.
The Babadook – Cannabis
You've been warned, The Babadook is too nerve-racking, even for most adults. Recommending more euphoric experiences instead.
9 Must-Try Wines For Fall
If you're anything like the Wine Folly crew, you're lamenting the end of summer and all the white wines and pink drinks that go with it. (See you next year, Albariño, Rosé of Cabernet Franc, and you taco-friendly Verdejo. Thanks for the memories. Much love.)
Understandably, we're in need of comfort. Comfort that goes beyond sweaters, binge-watching Netflix favorites, and 
Pumpkin Spice Lattes.

 We need wine. While we're not quite ready for Cabernet Sauvignon, Sagrantino, or Tannat to carry us through winter, we need something more to get us through shorter days and all this rain (or, mental thunderclaps).
While we may get some heat for not including traditional favorites, (We see you Beaujolais, Pinot Noir, Merlot, and we love you) here are the nine wines we're bullish on this autumn.
Sémillon
Fall isn't just red wine season. It's full-bodied white wine season too. This Bordeaux-borne grape is often blended with Sauvignon Blanc, giving an otherwise lush, mouth-filling wine a welcome hint of zippiness to make an excellent white pour for those dark green fall veggies. Find one with some age or oak on it and be prepared for notes of honey, almond, and an unctuous texture.
Pro-Tip:

 While Australian varietals are similarly phenomenal, their leaner bodies may have you looking elsewhere for the fall season.
Marsanne/Roussanne
Ah, the whites of the Northern Rhône. Yes, these are two different grapes with Marsanne being notably bigger-boned and Roussanne leaning on the more aromatic side. But, it really feels like you can't have one without the other. They're often blended together to make a rich, medium-to-full-bodied white with striking perfume aromas, creamy pear and nut flavors, and a downright filling finish.
Barbera
Though it doesn't quite have the bonafides of Nebbiolo, Barbera is Northern Italy's wine of the people and is never too far from a Piedmontese dining table. This wine can be a bit of a conundrum. Due to its pigmentation, it can taste both rich and light-bodied, offering the berry and cherry notes in bigger wines, but goes down like a treat, thanks to lively acidity. Oak-heavy styles have an extra touch of chocolate, vanilla and spice.
Dolcetto
We must be feeling Piedmont's everyday drinkers, because we're definitely sweet on Italy's little sweet one. Despite the name, this wine is known for being on the dry side with more tannin than Barbera, but less acid. Expect delightfully fruity, licorice, and bitter sensations with this quaffable recommendation.
Regions to Checkout:

 Langhe, Piedmont; Lodi, California

Pro-Tip:

 Seek out Dolcetto di Dogliani, and Dolcetto di Dogliani Superiore for a more elevated experience.
Carignan
Known for its cranberry, cured meat, and baking spice flavors, this affordable medium-bodied red is finally starting to shed its low-quality reputation. Many producers are reinvigorating old vineyards and making tremendous wines that pair so well with foods, the wine is practically its own ingredient. As Carignan vines are productive, you'd do well to seek out old vines where you can.
Grenache
When it comes to fall-friendly wines, this is arguably one of the friendliest. So much so that we wonder if it shouldn't be in the obvious column. Character, of course, varies from region to region with raspberry and clove (Spain, Australia, U.S.A.) in some, and dried strawberry and herbs in others (France, Italy.) But really, it's hard to go wrong, at least in our humble opinion. Occasionally, Grenache can be prone to a higher ABV, but hey, when it's this cold, who's complaining?
Regions to Checkout:

 Châteauneuf-du-Pape, Côtes du Rhône; Cannonau-Sardinia; Paso Robles; Columbia Valley; South Australia; Aragon-Spain

Pro-Tip:

 The highly praised Châteauneuf-du-Pape, Chateau Rayas, is 100% Grenache!
Rhône/GSM Blends
You love Grenache. You can't get enough of all those berry and clove notes. But maybe you need something more. A little more tannin here, acidity there. Something a bit more robust to pair with a foggy, chilly night. Enter the classic GSM (Grenache-Syrah-Mourvèdre) blend. Plush and opulent, one can expect additional flavors of lavender, baking spice, and even some green herbs.
Cabernet Franc
If you've just about had it with fruit-forward offerings, then Cabernet Franc is here to save your wine drinking day. Yes, you'll still find strawberries and plums among the dominant flavors, but if you go the cool-climate route, you'll also come across chili and bell pepper notes, as well as some peppercorns, making single-varietal Cabernet Francs one supple, savory enterprise.
Primitivo/Zinfandel
This wine right here, this is our jam—pun definitely intended. Though we are fans of the lighter, low-ABV styles with rose petal, sage, and black pepper flavors, it's the richer styles that inspired us to write this article. Jam and smoke. Notes of cinnamon, raisin, chocolate, and tobacco. ABVs north of 15%. This, ladies, gentlemen, and aspiring oenophiles, is fall in a glass.
Regions to Checkout:

 Lodi, Napa Valley; Sonoma Valley; Sierra Foothills-California

Nah, That's Too Rich for Me:

 Puglia, Italy
OK, Wine Folly fam, you know we didn't catch all of them. What else would you add to the list? Inquiring minds want to know.
Find more articles like this at winefolly.com 
The Evolution of Your Wine Palette
Regardless of how you found your way into wine, you're here now! Thank goodness. Of course, wine drinking is very much a journey itself, and it's quite likely that your wine palate will change over time.
You've probably already experienced a "taste revolution" once in your life. For example, remember how you once loved strawberry milk, but now prefer coffee?
After speaking with countless wine enthusiasts and sommeliers (…in a totally non-research-worthy way), here's a pretty good estimation of how you wine palate changes over time:
The 7 Stages of Your Wine Palate
It's time to pay a little homage to each step of our wine palate evolution, from beginner to enthusiast. Ironically, once you get to the end, you'll find yourself back at the beginning.
Find out where your wine palate fits in the grand scheme of taste.
Sweet Wine Phase
Wine is…whoa. Wine is for me!
If you're coming to wine from the world of gin and vodka cocktails, chances are your wine palate will prefer sweet white and rosé wines. On the surface, these wines are straight-forward and easy to understand with big, obvious, fruity aromas, and sweet-tart flavors.
Oddly enough, sweet wines are not just for beginners. Almost every Master Sommelier and Master of Wine has, at some point, outwardly professed their love for sweet white wines, including German Riesling, Hungarian Tokaji, and even Vin Santo. So, don't let wine snobs haze you.
If this is your style, here are a few articles that will round out your knowledge and provide you with new wines to explore that you're likely to love: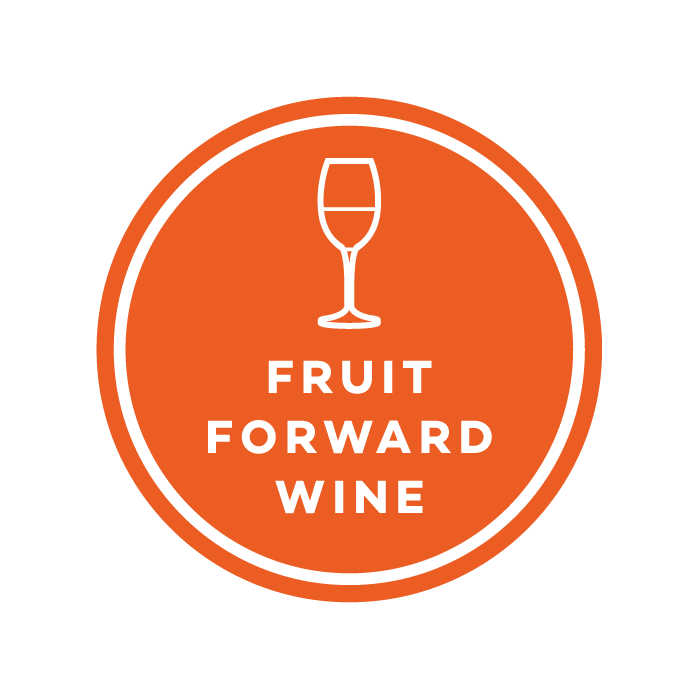 Fruit-Forward Wine Era
First Love for Red Wine.
We are easily enticed into the world of red wine. Red wine is the most talked about, rated, and collected style of wine, and it's also associated with several intriguing health benefits. But… how does one develop a palate for red wine?
This is the moment when fruit-forward red wines come into perfect focus. Fruity wines like Zinfandel, Garnacha, Alicante Bouschet, Petite Sirah, Merlot, Malbec, and Shiraz offer a welcoming bear hug to the wonderful world of red wine. Wines can be light, bold, soft, or spicy, but all have sweet fruit flavors as a dominant feature in the taste. To deliver this style, it's not uncommon to see a small amount of residual sugar (usually 2–5 g/L RS from the grape's natural sugars) left in the wine to further embellish the fruit-forward style.
If this is your wine palate, here is an article that will round out your knowledge and provide you with new wines to explore that you're likely to love:
Bold Wine Epoch
Crowd-Pleasers, Yes!
After exploring fruit-forward wines, we amp things up. More fruit. More ripe. More bold. More lush. More everything. Bold red and white wines like Cabernet Sauvignon, Syrah, and oaked Chardonnay are like a meal in a glass. Your tasting skills improve as you identify distinct flavors in wine and associate them to wine making processes. For example, the taste of creamy chocolate or vanilla in a bold red wine is almost always derived from oak-aging. Talk about a massive confidence booster! Add to that layers upon layers of flavor and a long, mouth-coating finish, and it's hard NOT to love these wines.
If you love this style of wine, you're not alone. Many of the world's top wine regions specialize in this style: (Napa Valley, Rioja, Bordeaux, Mendoza, Barossa Valley, Valpolicella, Montalcino, etc.) and it's a style that pleases crowds of all kinds. In fact, some of you have decided that bold, lush wines are the ultimate for your wine palate and proudly stand behind your decision.
Elegant Wine Era (aka "Pinot Noir Stage")
The Art of Subtlety.
For those who pass through the bold red wine stage and come out the other end, you are part of a much smaller core collection of wine 'thusiasts. If your wine palate prefers elegance, chances are you have trained your tastebuds beyond the average taster. You have very little trouble finding delicate floral notes in wine, such as violet and hibiscus, and differentiating between flavors like fennel, anise, licorice, and tar. For these reasons you are often drawn to wines with distinct flavors, or what we like to call pointilized wines (think pointillism).
Interestingly enough, we're observing elegant wines rising to become the "new luxury" in wine. There are many possible reasons for this, but perhaps the most obvious reason, is that in order to appreciate these wines fully, you have to be able to comprehend them fully. And, because it takes a great deal of skill to decipher the subtle flavors in elegant wines, they tend to have a shroud of exclusivity wrapped around them.
This era is the most guilty of wine snobbery, but it can be managed with a healthy pour of bubbles…
Sparkling Wine Stage
Bubbles! Bubbles!
We throw out all our preconceived notions of wine as we fall in love with sparkling wines. Sparkling wines have the reputation for being the life of the party, but with two fermentations and pressures up to seven atmospheres in a bottle, they are some of the most challenging wines to make on a technical level. If you love bubbly, you've come to appreciate the secondary aromas in wine that come from the fermentation, including all those bready, biscuity, yeasty, and even beer-like smells.
Natural and Other Wines Age
Anything But Normal.
Maybe you tried a "Pet Nat" (Methode Ancestrale) sparkling wine from the Loire. Or, a sommelier recommended a natural wine after learning you love sour beer. Regardless of how you got to this phase, you are now deep into the fascinating, undefinable world of natural wines and beyond! These wines include orange wines, dry Sherry, Madeira, un-sulfured natural wines, amphora-aged wines, biodynamic wines, and anything that doesn't fit the traditional profile of "what is wine."
Your friends won't understand your obsession, but that's never stopped you before.
"I Hate Wine" Period
A Love-Hate Thing.
We admit. Wine is an emotional experience. There will be a point in the journey where you won't want another drop. You might enjoy cocktails and beer, but for some unexplainable reason, every wine you try bores you. When you get to this point, just roll with it. You've become overexposed (common for people working in the wine industry). Just take a deep breath, wine will be there when you're ready for it.
In fact, this might be the perfect time to give a sweet Riesling a second chance…
Wines for Apple Pie, Pumpkin Pie & More
Pie and wine.
Could it be the fastest way to get a hangover? Possibly. Still, you're only human. It's your errant human nature that leads to the occasional, insatiable craving. Be it pie and wine or worse: that pink cheetah print jumper you have in your closet.
So, if you're going in deep, you might as well do it right.
To that effect, here is an ill-advised, yet delightful journey to find the best possible pie and wine pairings. Prepare to make enemies with your dentist.
Pie and Wine Pairings Done Right
Apple Pie and Dry Marsala
Commonly used in cooking and the creation of rich, caramelized sauces, dry Marsala makes an excellent pairing with apple pie, bringing flavors of foraged nuts, vanilla, and citrus rind to America's favorite pie. Of course, if you're a wine geek, you know that Marsala isn't the only dessert wine from Sicily! The high-brow alternative would be something like Marco de Bartoli's "Vecchio Samperi," which is this whacky, crazy-delicious, un-fortified un-Marsala that's 100% Grillo. Mic drop.
Pumpkin Pie and 20-Year Tawny Port
When it comes to pumpkin pie pairings, after-dinner coffee is no match for a quality port. This pie begs for more sweetness. Enter Tawny Port. More aged and oxidative than its ruby cousins, the dried orange, fig, toffee, and spices found in 20-year Tawny is something that will make your friend's experimental vegan pumpkin pie palatable. (The keyword here is "palatable.")
Pecan Pie and Gamay
Pairing pecan pie with wine can be bittersweet—literally. High tannin in the nuts combined with sugary, caramelized crust: it's a real challenge. If you must have wine, the fruity, juicy, spicy Gamay or regional Beaujolais Cru (also made with Gamay) is the quintessential autumnal pairing… on paper. That said, coffee or bourbon might win the taste-off. Wait, do they have "taste-offs" yet? Hey Food Network, I have a pitch!
Pear-Cranberry Pie and Moscato d'Asti
Why is pear-cranberry pie not more popular over the holidays? Who do we need to talk to to make this a thing? Anyway, for this awesome, under loved fall pie, grab a glass of Moscato d'Asti. This isn't just any old Moscato, it's the Original Gangsta Moscato all the way in from Piedmont, Italy. The wine is bursting with stone fruit and Asian pear flavors, and is shockingly low-alcohol (only 5.5% ABV!). Let's make this a thing, shall we?
Sweet Potato Pie and Alsatian-Style Pinot Gris
More textured and airy than the ubiquitous pumpkin pie equivalent, this Southern holiday staple requires something a little different. Alsatian-style Pinot Gris is richer and sweeter than the other two styles of Pinot Gris/Grigio and it gives this vegetal pie the right dollop of honeycomb, sweetness, peach, and almond to wash it down right.
Classic Cheesecake and Riesling Ice Wine
Ah, ice wine. One of nature's sweetest mistakes. Just the thing for everyone's favorite custard: the classic cheesecake. Sure, you could top your cheesecake off the chart with fresh fruit. But why do that when you could drink your fruit in a glass?
Chocolate Cheesecake and Recioto della Valpolicella
Recioto ("reh-chee-oh-toe") features the same grapes as Amarone and uses the same process. Fermentation is halted before completion to leave residual sugar in the wine. The result? A surprisingly tannic sweet red wine that drinks like liquid chocolate cherries. Honestly, you may not even need dessert with wine this good…