16 Stylish Wines for Upscale Breakfasts
If you can drink a mimosa for breakfast, then wine for breakfast is fine too. In fact, one could make a pretty strong argument to ditch the OJ altogether and just drink wine.
"Champagne is appropriate for breakfast, lunch, and dinner."
So, don't feel bad if you pop a beautiful breakfast bottle with your weekend brunch. There's no shame in it. Even when someone pokes you with, "Oh, I see you having wine before five!" Raise your eyebrows and say, "I bet you wish you could join me."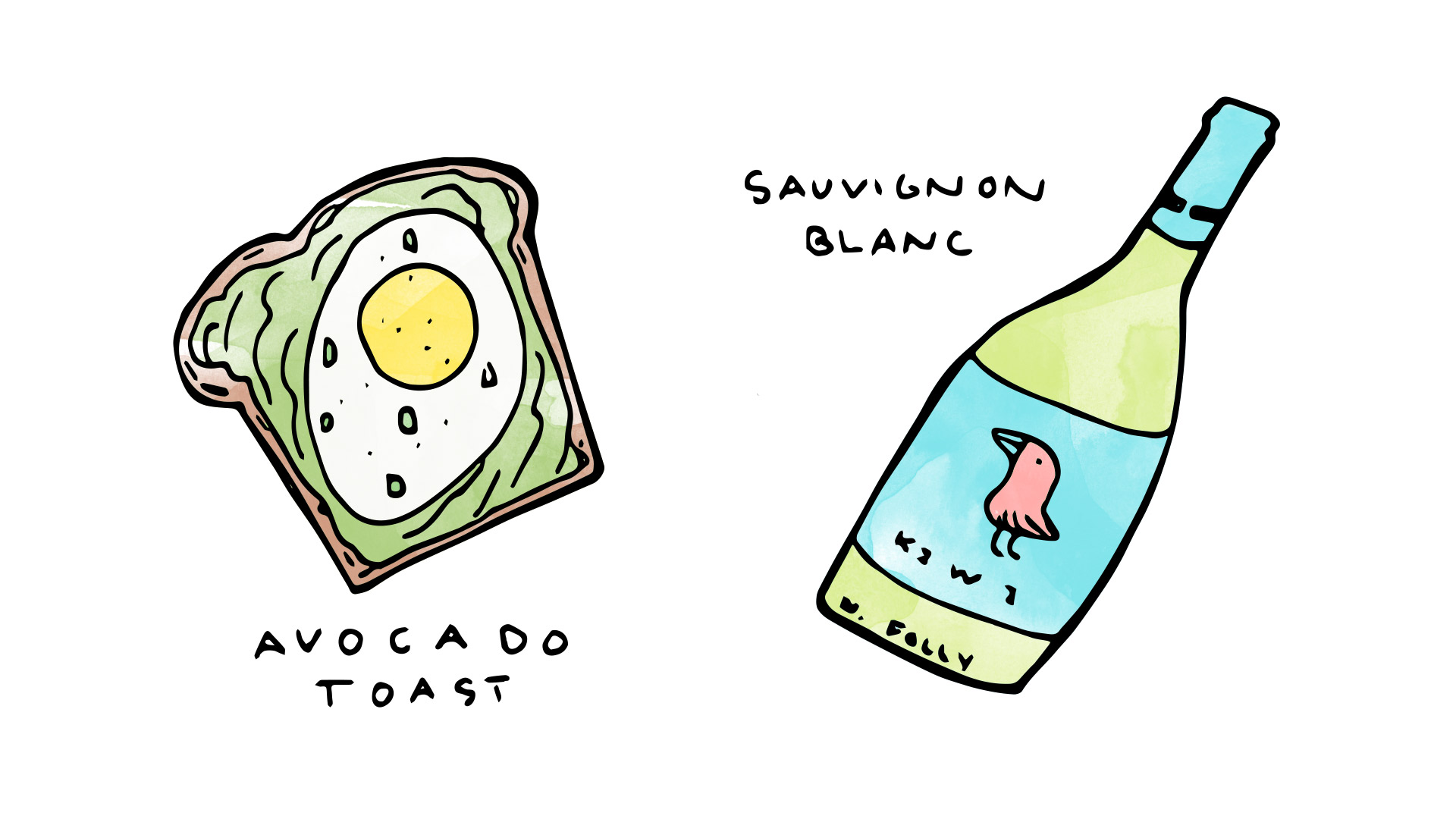 1. Smashed Avocado Toast
Wine Pairings: Sauvignon Blanc, Picpoul de Pinet, Soave, Grüner Veltliner
Imagine a thick slice of crusty bread that's covered with smashed avocado, drizzled with EVO (extra-virgin olive oil), dusted with cumin, salt, and red pepper flakes, and sprinkled with fresh green herbs. Need more protein? Top the whole shi-bang with a poached egg.
The perfect wine for the avocado ensemble plays up the green theme and adds well-needed acidity – like a squeeze of lemon. Sauvignon Blanc is a great place to start.
2. Chicken & Waffles
Wine Pairings: Lambrusco di Grasparossa, Lambrusco di Sorbara, Sparkling Shiraz, or Brachetto d'Acqui
Southern fried chicken deserves a very special kind of waffle:
It's got to be round.

It's got to be spongy.

It's got to have an ice-cream-scoop-sized dollop of butter on top.
The perfect wine plays the roll of a cool refreshing iced tea. Just like iced tea, chilled red wines have tannins. The tannins are very useful in this pairing because tannins help scrape fat from your tongue. You're going to need it.
3. Biscuits & Gravy
Wine Pairings: Barbera, Blaufränkisch, or Cabernet Franc (serve slightly chilled)
Thick, gooey, salty gravy on top of fluffy biscuits: this is the quintessential greasy spoon breakfast. With every bite, you'll find yourself reaching for something wet to wash it down.
The ideal wine is going to have a touch of tannin (again, to scrape the fat) and moderate acidity to quench your thirst. Barbera makes an ideal choice. The high acidity in this Italian red is perfect and the flavors of anise complement breakfast sausage perfectly.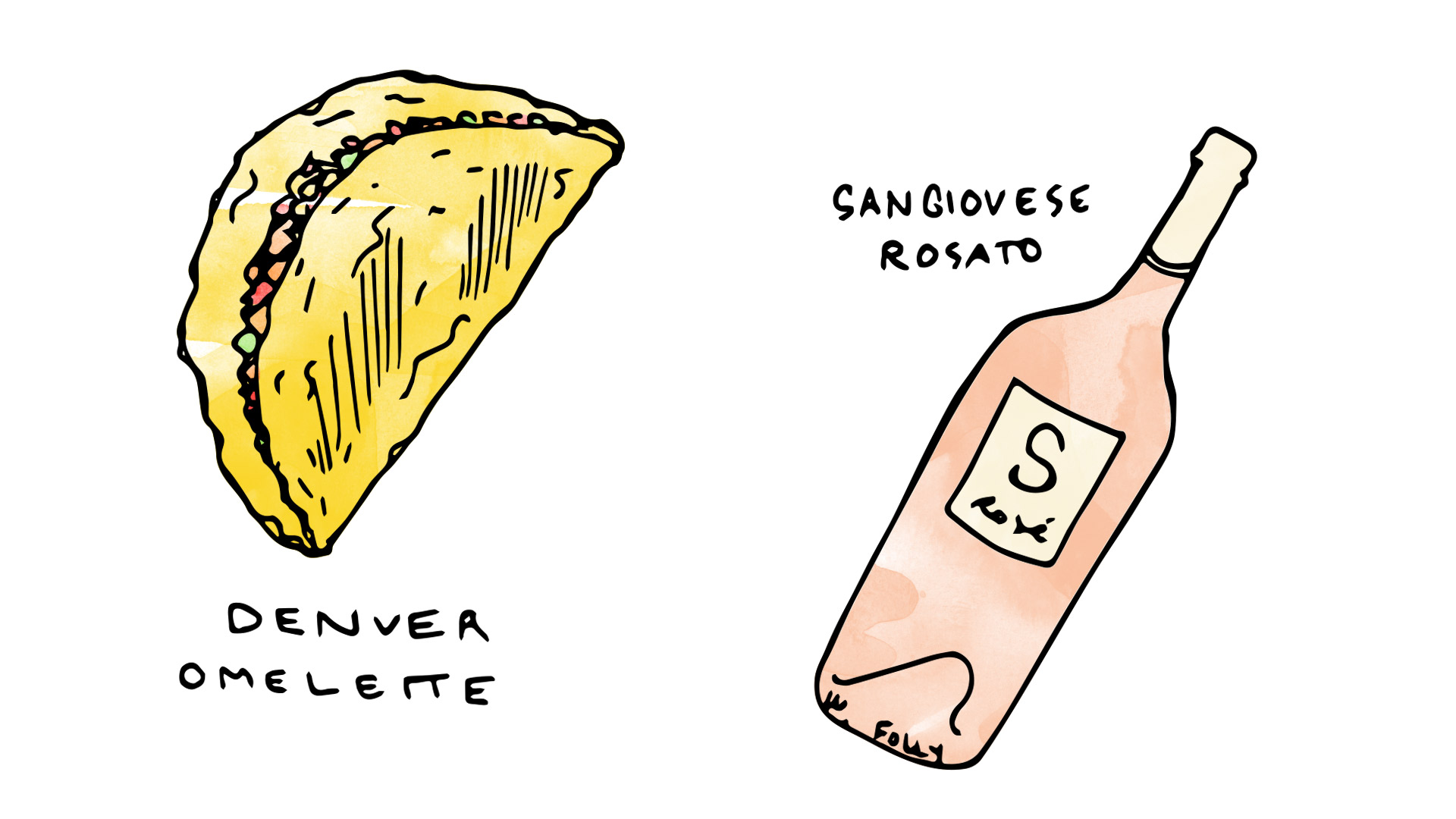 4. Denver Omelette
Wine Pairings: Sangiovese Rosé, Garnacha Rosado, Cabernet Franc Rosé, Saignée-Method Rosé
You can hate, but the Denver Omelette is still one of the most well-balanced breakfast choices out there. Little sautéed cubes of ham, bell pepper, mushroom, and onion are set into place with a handful of cheese and folded into an egg blanket. Savory food for umami people.
There is a lot of umami in this dish which means you're going to need a wine with a little more "oompa" than white, but maybe not as much "oomph" as a red. Are you thinking what I'm thinking? Yep. The right rosé will do nicely! Go for high-flavor versions.
5. Blueberry Pancakes
Wine Pairings: Moscato d'Asti
Remember Fabienne in Pulp Fiction? When she says "blueberry pancakes?" Those are the ones! They are almost perfect on their own. Until you bite into one and start chewing, and the pancake gets stuck to the roof of your mouth, and there's not enough syrup, and you feel like you need something to wash it down.
Thank god (or the Northern Italians) for Moscato d'Asti. It's the P.P.W. (perfect pancake wine).
6. French Toast with Bacon
Wine Pairings: Dry Riesling
If you're going to do French toast, you might as well use thick cut brioche. Otherwise, why make the effort? Also, what better complement than a couple pieces of thick cut bacon. While we're at it, perhaps a fried egg too to finish it off?
For this pairing, I'd reach for a dry Riesling in a second. Riesling hams up the bacon and the dryness will help counteract the syrup on the French toast. As a pairing, Riesling acts as a palate cleanser with its sky high acidity, which is really going to help with morning egg breath.
7. Soy Chorizo Tofu Scramble
Wine Pairings: Zweigelt (served chilled)
There is a small, but growing, number of us who believe breakfast doesn't need eggs to be great. Enter the tofu scramble. Not only is it healthier, but it tastes so amazing when crumbled with the proper spice blend (turmeric, garlic, cumin, coriander, soy sauce, and chili flakes). For a double dose of flavor, use soy chorizo. The only wonder is why this dish is so hard to find in brunch spots throughout America.
This flavor-packed dish with intense spicing needs a wine to help quell the burn. For this, we're leaning towards a light red wine like Zweigelt. This Austrian red tastes great when served slightly chilled and will embellish the flavor profile without making you feel over-spiced.
8. Eggs Benedict
Related Wine Guides
Wine Pairings: Extra Dry Prosecco, Torrontés, Vinho Verde
Eggs Benedict is an American classic. It's perfectly toasted english muffin halves topped with crispy Canadian bacon, a perfectly poached egg, and a generous pour of creamy hollandaise sauce. It might actually be the most sophisticated brunch that North Americans can claim as their own. Also, if you find a place that does it well, you should consider yourself very lucky!
For this pairing you'll want a wine with a touch of sweetness (like, a teensy touch) to highlight the sweet-savory flavors of Canadian bacon. (Just like pineapple does on pizza!) This is why we opted for and Extra Dry Prosecco (vs. Brut). The sugar levels aren't noticeable – it's just enough to bring out the fruit.
9. Breakfast Frittata
Wine Pairings: Arneis, Assyrtiko, Gavi
The word frittata comes from Italy and means "fried." As you can imagine, there are many variants of the frittata. Whichever variation you choose, the real secret to a great frittata is well-beaten eggs and extremely low heat. For this breakfast wine pairing, the Italian-esque variant almost usually always includes roasted peppers, broccoli rabe, and a couple of great, flavorful Italian cheeses (such as Parmigiano and Provolone).
This pairing is surprisingly open and allows for a wide number of potential matches. That said, frittatas are definitely guilty of egg-breath, so wine with higher acidity is really a great place to start, which is why we opted for lean white wines. Arneis and Gavi are all great Italian whites worth diving into. And, if you really want to blow your mind, you might try the Greek wine, Assyrtiko, which has both high acidity and salinity. Awesome.
Note:

 For those who really want to dig in this breakfast, check out the Spanish version called tortilla de patatas with potato!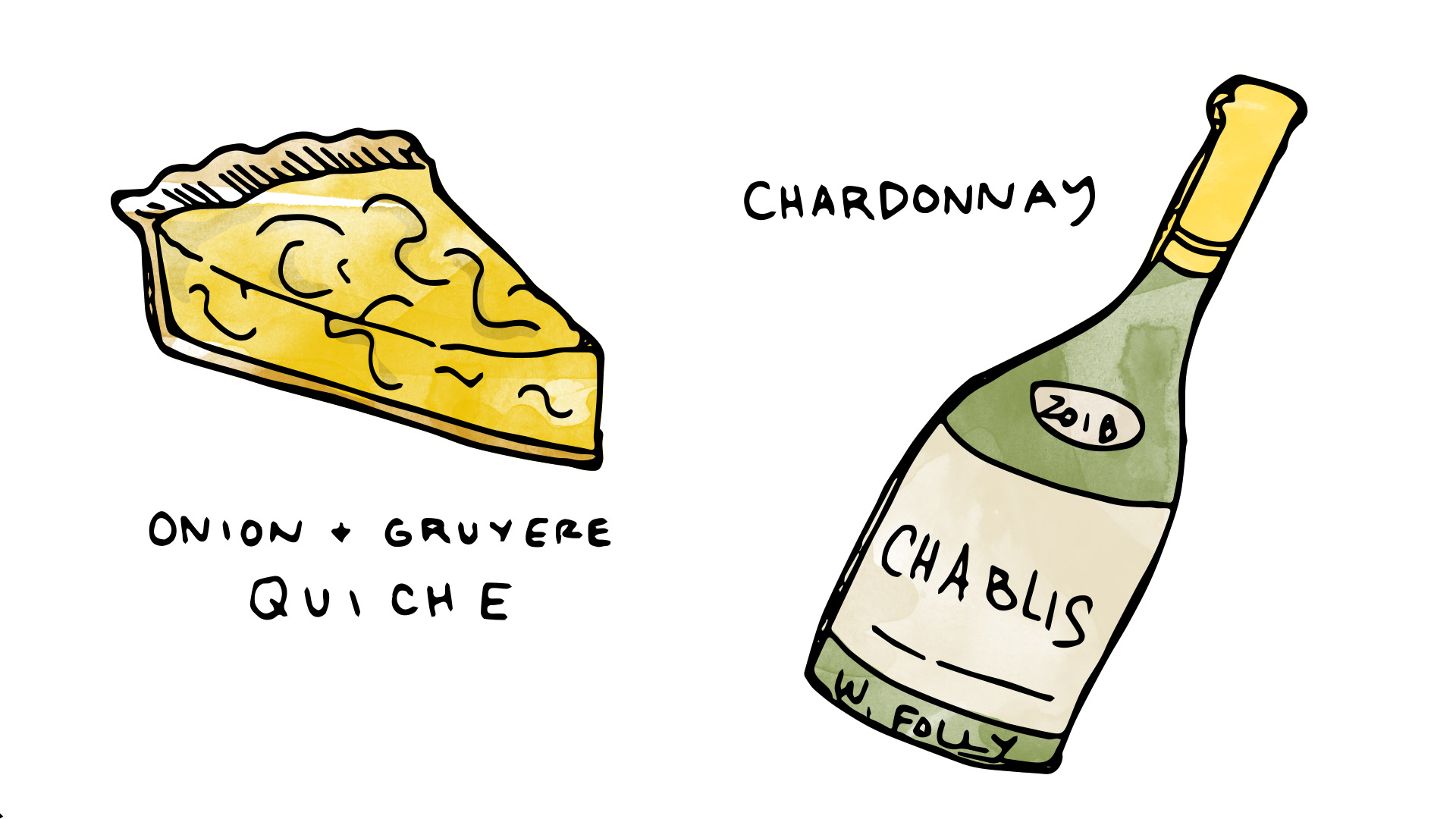 10. Caramelized Onion and Gruyère Quiche
Wine Pairings: Chardonnay, Chablis, Grechetto, Grenache Blanc.
The French do it right when it comes to cooking: few ingredients without overwhelming the palate. Take French onion soup. It's so simple, and yet so unbelievably good. Yes, French preparation is hard, but your ingredient list is relatively simple. Although there is one secret ingredient to this quiche recipe that makes is amazing: a pinch of nutmeg.
For this pairing, going with a French classic seemed like the only right answer. Chardonnay does magical things to your mouth when paired with gruyère. The unoaked styles, such as Chablis have tingling high acidity too, which will help with "egg breath." Of course, there are many great places around the world to find terrific Chardonnay so you don't have to stick to Burgundy if you don't want to foot the bill!
11. Breakfast Burrito
Wine Pairings: Gamay, Tempranillo, Sangiovese, Valpolicella, Earthy reds
The only thing wrong with a breakfast burrito is that eating the whole thing at once can result in a "food coma." To avoid this, cut it in half (and hide the other half somewhere out of view). Cutting it has the added bonus of revealing all the delicious layers of eggs, cheese, beans, potatoes, meat and other goodies. Imagine yourself sitting there, hot sauce in one hand, burrito in the other… anyone who's lived in the Southwest knows that this is the combination for happiness.
For this pairing, go for an earthy red wine. You don't really need something as fancy as Gamay, but the crunchy earthy finish of this wine (particularly those from Beaujolais) will take your breakfast burrito to a whole new level. If you want to give your pairing a little more Spanish appeal, try a Tempranillo, you will not be disappointed.
12. Steel-Cut Oatmeal
Wine Pairings: Tawny Port, PX Sherry, Muscat de Rivesaltes
One of the few breakfasts on this list that that you can eat every morning and never feel guilty.
For this pairing, we decided to re-imagine the wine as one of the typical ingredients that top oatmeal. So, you would take a bite of oatmeal and follow-up with a little sip of Tawny port. The Tawny would take on the roles of sugar, cinnamon and raisins all at once! You won't need a lot, maybe just a 3–4 oz of wine to make this magical pairing.
13. Yogurt Bowl with Bananas, Sliced Almonds & Honey
Wine Pairings: Gewürztraminer, Alsatian Muscat, Austrian Muskateller
Yogurt bowls are the latest craze popping up all over the US. On the positive side, it's really made us think differently about the importance of quality ingredients. You can't make good yogurt without good dairy!
For this pairing, we really wanted to focus on a wine with strong aromatics. This is because yogurt offers very little in the way of aromas, and thus, aromatic wines can really add more perceived flavor to the scene. Gewürztraminer with it's intense aromas of lychee, rose, grapefruit and allspice will really take your everyday yogurt bowl to the next level. Because of the tropical fruit notes in this wine, it really lends to the toppings of bananas and almonds.
14. Crepe with Strawberry & Ricotta
Wine Pairings: Crémant d'Alsace Rosé, Crémant de Loire Rosé, Sparkling Malbec Rosé
Imagine fluffy ricotta cheese with a drizzle of honey rolled into a warm crepe and then topped with strawberries and powdered sugar. It's one of those items you want to eat as soon as it hits the plate.
For this pairing, a rosé bubbly wine is the perfect choice. Not only will the color of the rosé complement this breakfast, but the carbonation will create a burst of creaminess after each bite.
15. Bourbon Peach Bread Pudding
Wine Pairings: Vin Santo, Vinsanto, Moscatel de Setúbal, Moscatel-based Sherry
This could be dessert, but if you add some breakfast sausages (maybe Jimmy Dean sage?) it suddenly becomes an all-American breakfast feast.
For this pairing, we exchanged the typical caramel topping for a glass of Vin Santo. Vin Santo offers all the same caramel-like notes along with some more complex flavors of pecan, white cherries and vanilla. Fantastic!
16. Grilled PB&J
Wine Pairings: Oloroso Sherry
Thick-cut slices of grilled bread slathered with a healthy smear of roasted peanut butter and berry jam make the best sandwich. Why this isn't a common item on brunch menus is a still a mystery to us. Even kids love it. Someone please steal this idea.
For this pairing, we wanted to let the sweetness of the jam speak for itself. So, instead of the typical dessert wine pairing of Ruby Port (which would still be great) we chose a unique wine oddity called Oloroso Sherry. This is a type of dry Sherry that spends extended periods in oak. The oak aging gives it additional smoky, roasted nut aromas over a lean, salty palate. It's fantastic and honestly, there's really nothing quite like Oloroso Sherry. Well worth trying.
Visit winefolly.com for more fun articles like this! 
Six Rare Red Wine Grapes You Deserve To Know About
For those of us who are perpetually hunting for the unusual, the wine world is a mecca of delight. There are thousands of wine varieties, most of which exist in only in specific microclimates. Despite how rare these varietal wines are, they are within reach.
Sound like an opportunity for some delicious discoveries? Absolutely!
"If you tasted a new wine variety each week, it would take you 40 years to try them all."
Here are six rare red wine grapes that you deserve to know about.
Daily Drinkers
These four rare reds will fit right into your daily-drinking rotation because they share similarities with other wines you already know and love.
Refosco
Imagine picking blackberries in the forest while drinking coffee from a thermos.
Typical Tasting Notes:

 Cherry, Dried Blackberry, Resinous-and-Floral Herbs, Espresso, Incense
Why Refosco is Awesome: 

For one, Refosco (aka Refošk) is actually a family of grapes, so for the sake of this exploration, let's stick to one Italian variant called "Refosco dal Penduncolo Rosso." This grape turns out to be the parent of Corvina, which makes one of the top wines of Italy (that's Amarone della Valpolicella). Refosco manages to be heady and rich and high acid at the same time. Your tongue will tie knots!
Please Don't Make Me Look For This Alone! 

Okay, okay. Want some recommendations to start? Give Ronchi di Cialla's Refosco (~$17) a whirl for a great food wine. The one wine that's got all the geeks freaking out is Miani's "Calvari" (good luck sourcing this…I can't find it online 
 ).

 
Frappato
Drinking Frappato is like jumping into a giant pool of brightly-colored plastic balls.
Typical Tasting Notes:

 Pomegranate, Sweet Strawberry, White Pepper, Tobacco, Clove
Why Frappato is Awesome: 

Frappato is one of the few red wines out there that doesn't take itself too seriously. Still, its sweet-smelling fruit flavors and pale red color aren't something to poo poo. Frappato might actually be genetically related to Sangiovese (Italy's top red wine, mind you). Plus, it's perfectly at home growing on a live volcano (Mount Etna in Sicily)!
So, if you're looking for something to lighten your load (or for a salmon-friendly red), Frappato is your girl.
OMG… What Should I Try?

 We recently sucked down Planeta's Frappato (~$20) and Occhipinti's "Il Frappato" (fancy, organic/biodynamic ~$46) and they did not suck. Not in the least!

 
St. Laurent
Your friends will swear this is Pinot Noir.
Typical Tasting Notes:

 Raspberry, Blackberry, Mushroom, Baking Spices, Cocoa Powder
Why St. Laurent is awesome: 

Everything seems a bit more vibrant (if not slightly off the rails) in Eastern Europe. (If you've been there, you know exactly what I'm talking about). St. Laurent is like a bolder, sexier, more bodacious Pinot Noir (although, it's technically not related).
So, if you're looking for something that's "close to home" but pushes your ma's buttons, pick up a bottle of what we're calling "The Saint." (P.S. The Czech spell it "Svätovavrinecké" – how would you pronounce that?)
I Hate You Wine Folly, Where Do I Look!?

 If you ask us, we're fans of Heinrich's St. Laurent from Burgenland (~$30) and Rosi Schuster's Sankt Laurent ($20) makes a lithe and low-alcohol version that's priced right.

 
Listán Negro
Have you ever had anything from the Canary Islands?
Typical Tasting Notes:

 Red Cherry, Banana, Strawberry, Pepper Spice, Flowery Herbs
Why Listán Negro is Awesome:

 Have you ever had ANYTHING from the Canary Islands? I didn't think so. Enter Listán Negro. This is a wine that is sometimes compared to Grenache, but with slightly less smack-you-in-the-face alcohol.
It's pretty common to find this grape made with carbonic maceration (thus, the "banana" flavor in some wines), which helps reduce some of the herbaceous-ness. Still, there's something about this grape (and the island) that's other-worldly. Flavors seem to balance between overly fruity and seriously earthy. It's no wonder that this wine pops up in "in the know" NYC wine bars.
I'm Lazy, Tell Me What To Buy.

 I got you bro. On the more savory, there's Suertes del Marques, who makes various wines, but the "7 Fuentes" (90% Listán Negro ~$20) is a great place to start. On the fancy, Somms have written epics about Envínate's Táganan (~$33), which will hit your palate like a ton of bricks (in a good way).

 
Collectible Finds
Baga
It's cheap rosé when done wrong, but it's Portugal's Amarone when done right.
Typical Tasting Notes:

 Dried Sour Cherry, Blackberry, Earthy Black Currant, Cocoa, Tar
Why Baga is Awesome:

 Baga is prolific. This is why Baga is the base grape in one of the world's most well-distributed, hipster rosés: Matteus. It's also delicate. This thin-skinned Portuguese variety has recently been taken more seriously by people like Luís Pato and Dirk Niepoort who fight back high yields (and use old vines) to encourage quality. Their work is paying off.
In the glass, fine Baga has all the attributes of the other great collectible red wines of the world. Baga has good phenolic structure (high tannin, anthocyanin, etc), age-worthy acidity (with pH levels around 3.5), and the ability to age gracefully (meaning, it as the volatile acidity and aged compounds like sotolon increase, the wine doesn't fall on its face).
What Do I Cellar? As much as you should do your own work on cellaring and investment wines, do check out Quinta do Ribeirinho's "Pé Franco" (~$199) and Neipoort's Poeirinho (~$52) for inspiration!
Xinomavro ("ksino-mav-roh")
Typical Tasting Notes:

 Raspberry, Plum Sauce, Anise, Allspice, Tobacco Leaf
Why Xinomavro is Awesome:

 If there's one thing to learn about collecting wines (to drink), it is that a little effort delving into off-the-beaten-path wine countries like Greece and Portugal will result in truly special finds. Xinomavro is one of these wines.
Don't let the awkward pronunciation scare you (just say "Casino-Mavro" and you're practically there!) – this grape means serious business. Xinomavro really reminds us of Barolo when done right, but with a slight savory quality that brings up visions of aged Tempranillo. For now, you really need to sit on it for a while to allow those high acids and tannins to calm the heck down!
So, What to Buy?

 Sheesh! Again with the shakedown! Well, if you've got me cornered, I'd say look into two regions: Naoussa and Amyndeo (aka Amyntaio). There are not many producers in either place, maybe only a few dozen. Two that come to mind include wines by Apostolis Thymiopoulos at Thymiopoulos Vineyards (who is making waves with his biodynamic practice) in Naoussa and Alpha Estate is definitely a flagship in Amyndeo.
Personally, I can drink the crap out of a bottle of Diamantakos so, please don't buy it all up.
Best Wine for Sushi Lovers
When thinking sushi, the first thought is usually sake (saa-kaay), and rightfully so. Colloquially known as Japanese rice wine, sake is actually closer to beer than wine. But, that's another story.
So, in lieu of the classic, let's chat (sushi-friendly) grape-based beverages.
In this article, the aim is to simplify some of that "what if," discerned through tireless (and totally selfless) tasting of wines alongside some of the more interesting styles of sushi.
The Best Wine For Sushi
Sushi is one of the more diverse types of food; there are many regional variants as well as North American adaptations. Never before have there been so many flavour options!
Albariño
Try it with Tempura
Albariño bursts with flavors of lemon, lime, green peas and blossom, with high acidity and a slight bitterness on the finish. Winner winner, prawn tempura dinner: this is phenomenal with the sweetness of the shrimp, the oiliness of the deep fried Panko, and the acidity of the sauce.
---
Grüner Veltliner
Try it with a Dragon Roll (Cucumber and Avocado)
This Austrian native variety is rarely grown elsewhere. These wines have high acidity and flavors of white pepper, green peas, lime, and lemon. It could play really well with a Dragon Roll (eel, crab, cucumber, avocado, eel sauce). The razor sharp acidity cuts through the richness of the sauce and sticky rice, and the green flavors dance wonderfully well alongside the cucumber and avocado.
---
Prosecco
Try it with a Chopped Scallop Roll
This northern Italian tank-method sparkler has a bright, peachy, lemony fruit essence, sometimes with a hint of sweetness. Prosecco is an outstanding complement to a chopped scallop roll. Scallops are naturally sweet, soft, and delicate. Sometimes made spicy, a creamy chopped scallop roll just begs for a touch of sweetness and high acidity to slice through the succulence.
---
Provençal Rosé
Try it with a California Roll
Provençal Rosé has bright acidity and is bone dry, while being seriously red-fruit dominated and mineral driven. Enter strawberries macerated on a hunk of wet slate. Provence is famous for many things, most applicably: seafood and rosé! The crab and creamy avocado in a California roll are just begging for a light, bright rosé.
---
New Zealand Pinot Noir
Try it with the North-American Inspired Philadelphia Roll
For you red wine diehards; New Zealand Pinot Noir, or the rarer red Sancerre (also Pinot!), showing lighter body and tannin could be just the right match. Tannins in red wine are important to note when pairing with fish, because tannin can render fish tasting metallic. Fortunately, the cream cheese in a Philly roll will help to soften that effect.
---
Fino or Manzanilla Sherry
Try it with Uni (Sea Urchin)
This entire article would be amiss without a mention of Sherry. Fino or Manzanilla (man-tha-nee-aa) styles, with their light body and briny salinity, are a match made in heaven for seafood choices with a more intense flavor. Uni, or sea urchin, is essentially the foie gras of the ocean: smooth, mildly nutty, and briny without being overtly fishy. The salinity factor is the key here.
---
Kabinett Riesling
Try it with a Spicy Tuna Roll
A Kabinett level sweetness German Riesling with a spicy tuna roll just says "foodgasm." It's widely known that sugar turns the dial down on chili heat (the beloved Sriracha included), and sushi rolls are no exception. Spicy rolls are generally made so via spicy mayonnaise. So, an aromatic, high-acid wine with some sweetness to it would certainly be the natural direction. Yum.
---
Gewürztraminer
Try it with an Unagi Roll
"The one with Unagi." – Thanks, Ross.
Unagi, or freshwater eel, is similar in texture to chicken, while tasting somewhat Swordfish-esque, but with an underlying sweetness. There's a strong taste to it that begs for a wine with a comparable strength. Look for wines that are from higher altitude regions (such as northern Italy) for examples that won't fall into sugar-level overkill.
The ginger notes in "Geh-wurtz" will also sing alongside the pickled ginger garnish – not to mention the fact that the residual sugar in this wine quells the quick-burn of wasabi. Make note to be mindful to avoid high acid soy sauce when it comes to lower acid grapes (like Gewürztraminer).
Other Wines That Scream for Sushi
Gavi: A Piedmontese wine made from Cortese grapes is high in acidity and shows peachy, floral aromatics. Try this with traditional sashimi.
Muscadet Sèvre et Maine: The Loire's answer to Fino Sherry; this is a low alcohol, high acid, seriously minerally and salinity driven (badass) wine. Another perfect choice for sashimi.
Assyrtiko: The Greek semi-aromatic grape from Santorini is stellar with seafood, showing notes of citrus rind, white flowers, and beeswax. Yellow-tail comes to mind for a delicious match.
Chablis: The northern Burgundian rendition of Chardonnay grows on Kimmeridgian clay soils, which are literally crushed up seashells from the Jurassic period …now, if that isn't a sign!
Amontillado Sherry: Lastly, though this hasn't been tested as of publishing, a dry, nutty Amontillado style of Sherry somehow screams Aburi sushi. Aburi style sushi is flame seared fish. A hand-held blowtorch over a piece of bamboo charcoal chars the top, resulting in a somewhat smoky, nutty flavor. This is a Vancouver, BC favorite. You should probably attempt this pairing immediately, and report back. (Drooling already.)
Last Word
"If it grows together, it goes together."
Food and wine are incredibly intertwined entities that have progressed over centuries in absolutely every culture. Generally, there's a reason that the wines made in any given area pair so well with the local cuisine.
That said, the whole world is a melting pot and it's time to experiment, in the name of science!
Kanpai!
From 10 Wine Pros: What's the Most Common Mistake People Make in Wine Country?
For personalized tastings, picturesque vineyards, and the chance to meet the folks behind your favorite bottles, nothing beats 
a trip to wine country
. But whether you're planning a casual weekend away with friends, or you're a serious wine drinker looking to hone your blind-tasting skills, getting the most out of your visit requires careful planning.
 To help you avoid making rookie mistakes on your next wine-cation, 10 sommeliers were asked for their top tips when visiting wine country.
 1. "The biggest mistake I see when people visit wine country is making too many appointments in one day. Although there are so many places to visit, I recommend allocating three hours per visit and no more than three wineries per day. Quickly tasting a flight of their wines and leaving after an hour has never been a memorable experience for me. The magic happens when you're not in a hurry; ask if the winemaker is around, see if there are any animals on the property you can say hello to, ask all of the questions your heart desires. Once in Paso Robles, I got to sit in a giant harvesting machine and play with a little baby goat. That was my favorite visit of the entire day and it happened because we weren't in a rush." — Cristie Norman, Sommelier and Wine Educator, Spago, Los Angeles, CA
2. "Regardless of what wine region you go to (Greece is one of my favorites), take time to go to the small wineries. Your experience will be priceless and you'll be able to dive into greater detail about the wines and the winemaking process. Your chances to have unique bottles are far greater and these wineries tend to be family-owned and operated; to sit and speak with a family whose life is wine while tasting the fruits of their labor will create the greatest memories of that trip." — Evan Turner, Sommelier, Ouzo Bay and Loch Bar, Houston, TX
3. "Most people stay in the tasting room while visiting wine country. Get in the vineyard, get your hands dirty, feel the soil, walk the vineyard as if you're working it, eat a grape right off the vine, and try to understand how that fruit expresses itself in the bottle. It's amazing when you can taste the similarities in the fresh fruit and the wine it created." — Evan Abrams, Beverage Director, Marta, Manhattan, NY
4. "The biggest mistake people make when visiting a wine country is either driving themselves, or actually drinking ALL the wine at tastings. Most people aren't used to spitting, so they tend to reach the threshold a lot sooner. If you're really tying one on, the last thing you should be doing is driving." — Rafael Sanchez, Director of Wine and Beverage, Addison Del Mar, San Diego, CA
5. "Avoid trying to pack in as many wineries as you can in one day. Between traveling (and often getting lost) and time spent in the winery, it can be very hard to work off a schedule if you are trying to tour multiple wineries. The smart move is to schedule one or two visits that require appointments and then have a couple in your back pocket that are open to visitors walking in. That way, if you have time, you can plug one of those options in." — Scott Woltz, Beverage and Wine Director, Quality Branded, CO, FL, and NY
6. "One of the biggest mistakes people make visiting wine country is limiting themselves to only the popular regions, like Napa and Sonoma. A perk of visiting lesser-known wineries is that they are a bit less crowded and you get to feel like you're still discovering something new. Oftentimes you get lucky and can meet the winemakers or owners one-on-one as well." — Jami Olson, Owner, Popol Vuh, Minneapolis, MN
7. "Many people forget to travel up the mountains to visit the wineries above the fog line … at higher elevations, the wines tend to be more aromatic and lively, not to mention the views are spectacular." — Tim Waters, Sommelier, The Grey, Savannah, GA
8. "People, including most professionals, tend to focus on the winery and the tasting room rather than the vineyard, which is a shame. I find that taking the time to walk around the farm while chatting to the producer is actually when I learn the most about farming in general and about the producer's philosophy. Tasting wines is important but it is often the quickest part, and you'll only really understand what you're tasting once you get to grips with the plants and their environment. (Don't spend your entire visit taking photos for Instagram, either. Be present for your visit!)" — Isabelle Legeron MW, Founder, RAW WINE, London, UK
9. "All too often when people head to wine country or wine regions they feel pressured to slam every wine they're given. Considering most people maximize their day with a number of visits, by winery three it's a fast track to nap time. There [should also be] no pressure to try something that you actually don't want to taste. The winery is inviting you in for an experience, which in many cases you're paying for — make it about you!" — Ashley Santoro, Regional Beverage Director, The Standard, New York, NY
10. "While some wineries' tasting rooms are open to the public, many wineries are by appointment only. The small, family-owned wineries typically do not have the staff to receive visitors unannounced and will turn people away. By planning ahead and making an itinerary, you can arrange for a more enriching experience and go at a pace that's comfortable for you. Even if your appointments aren't private, you will likely be in a smaller group which allows for more intimate questions and the ability to get to know the people behind your favorite labels." — Alex White, Sommelier, Monello, Minneapolis, MN
Visit VinePair for more wine articles. 
White Wines That Age Well (With Chart)
This white wine aging chart reveals which white grape varieties tend to age the best based on inherent traits.
Of course there are always exceptions to the rule! Some white wines have been noted to age well for 30 years or more. Still, you'll find this chart to be a good starting point to help you consider what to hold on to and what to drink now!
White wines typically don't age as long as red wines because they're not fermented on their grape skins. (Unless they are orange wines!) The simple difference between winemaking methods reduces the amount of tannin in the wine, and thus, reduces white wine aging ranges.
Additionally, some white wines have lower acidity. Acidity is a wine trait that slows chemical interactions that cause wines to go bad. So, acidity is a very important trait of age-worthiness in wine.
White Wines That Age Well
Dessert Whites Tend to Age Longer
Beyond those still, dry white wines, fortified dessert wines tend to age even longer! Wines such as Sherry, Madeira, and even some Marsala have been shown to improve in flavor and texture over decades.
Additionally, there are several botrytized white wines (such as Sauternes and Riesling) that age nicely for up to 30 years.
Exceptions to The Rule
Of course, as with all things, there are exceptions to the rule. The best thing you can do to improve your tasting skills is to train your palate to taste for quality.
Acidity and tannin are very important for age-ability. Also, sweetness is considered to be a beneficial aging trait in white wines. Good luck and happy hunting!